Mike Nesbitt launches bid for Ulster Unionist leadership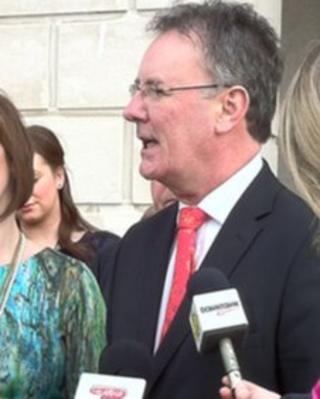 The Strangford MLA Mike Nesbitt has launched his bid to become the next leader of the Ulster Unionist Party.
At a news conference at Stormont he said the leadership contest was about selecting a candidate who can "engage, inspire and motivate".
He said the contest was about choosing someone who had the "skills that will be required to bring about a step-change in Ulster Unionist fortunes".
Mr Nesbitt also paid tribute to outgoing leader Tom Elliott.
The Fermanagh and South Tyrone MLA announced last week that he would be standing down as leader at this month's AGM.
Mr Nesbitt, a former broadcaster and victims commissioner, said he has the backing of four MLAs, two peers and other party activists.
The peers are believed to be Lord Laird and Lord Rogan. Party veteran and former Stormont minister Sam Foster is also in Mr Nesbitt's camp.
Mr Nesbitt said he would not take the party into opposition.
He added: "I do not favour a blind leap into opposition, while there is no formal framework to accommodate it."
He also said he was sceptical about calls from the DUP for unionist unity.
He is the second candidate to declare. On Tuesday, South Down MLA John McCallister announced that he wanted to succeed Mr Elliott.
Resignation offer
Danny Kennedy - who is Regional Development Minister - is expected to announce his leadership bid on Friday, when nominations close.
The leadership election will be held at the end of the month.
Meanwhile, Ulster Unionist MLA Danny Kinahan, who works as an aide to Mr Kennedy has offered to resign his position after he backed Mr Nesbitt in the leadership race.
Mr Kinahan said he had great respect for the regional development minister but thought Mr Nesbitt should be the next party leader.
Mr Kinahan said he had explained his position to Mr Kennedy and his resignation was refused by the minister.
Mr Kinahan was one of four MLAS who appeared at a news conference at Stormont on Thursday to back Mr Nesbitt.