Red Arrows returning for air show at Portrush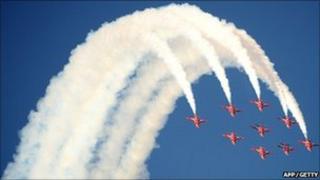 The RAF Red Arrows are set to take part in this year's Northern Ireland international air show at Portrush.
Last year, the aerobatics display team pulled out of the event after the death of a pilot in a crash in Dorset.
Flt Lt Jon Egging, 33, from Rutland, was killed when his Hawk T1 aircraft crashed following a display at the Bournemouth Air Festival.
The air show will be held on 8 and 9 September.
Organisers confirmed the return of the Red Arrows on their Facebook account.
"Delighted to announce today that the Red Arrows will be at Portrush this September (Saturday 8th)," they said.
"Sadly missed last year in their most difficult season.
"Really looking forward to seeing them in the new seven ship line-up."
Last year was only the second time the Red Arrows had not featured at the air show since it began.
It was initially cancelled in 2010 due to reduced contributions from sponsors until businesses rallied together and raised enough money.