Conor Breen is jailed after fatal crash in Omagh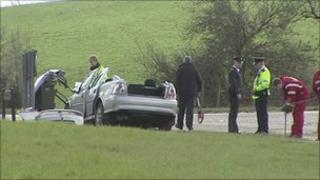 A County Tyrone man has been sentenced to seven years in jail, for causing death by dangerous driving.
Conor Breen, 19, from Corbo Road in Eskra, was behind the wheel of a jeep when it collided with a car on Doogary Road in Omagh.
The incident happened in April last year.
The driver of the car, 26-year-old Simon Glenn from Strabane, was killed and his mother, girlfriend and three-year-old niece seriously injured.
Breen had been driven home from a pub, but walked the two-and a-half miles back to collect his car and drive to Omagh to get cigarettes.