Appeal for more caution at roadworks by motorists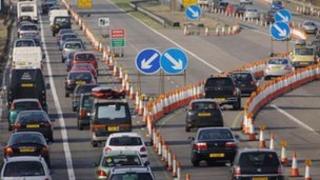 More than half of those working at roadworks in Northern Ireland have experienced a near miss with a vehicle.
The Quarry Products Association (QPANI) and PSNI have asked motorists to show more care and consideration for those working at the roadside.
In the last two years the PSNI has issued 1,100 fixed penalty notices to drivers speeding in temporarily restricted zones near roadworks.
Workers feel most at risk during peak traffic hours and early in the morning.
A survey of roadworkers showed that 77% of them have been verbally abused by a driver and 40% of them have had something deliberately thrown at them.
There are more roadworks that normal at present because it is the end of the financial year.
So QPANI and the PSNI have taken the opportunity to ask motorists to be safer around roadworks.
Roads Service also backs the call for greater care and consideration at roadworks, as Director of Network Services, Dr Andrew Murray, explained.
"Periodic works are essential to keep roads and the utility equipment beneath them in a safe and serviceable condition," he said.
"If this work cannot be carried out safely in the vicinity of live traffic, increased use of road closures will be necessary, with the additional delays and disruption that will cause to the travelling public."
PSNI Inspector Rosie Leech said: ""Considering that inappropriate speed for the conditions is still the biggest cause of collisions which kill and seriously injure people on roads across Northern Ireland, breaking temporary speed limits though roadworks, particularly where contractors are working in close proximity to traffic is incredibly dangerous and will not be tolerated.
"At major roadworks lane alignment, road layout and temporary surfaces can change regularly, so it is absolutely critical that motorists drive at a safe speed for the prevailing conditions of the carriageway.
"There can be no justification for breaking these temporary speed limits day or night, whether there appears to be work ongoing or not."