Northern Ireland payday lenders face investigation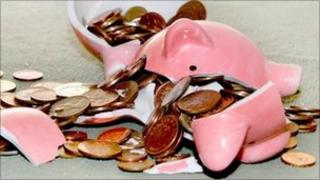 A number of payday lenders in Northern Ireland are facing investigation for unfair practices.
It follows undercover visits by Trading Standards.
A month-long survey of 29 loan companies in major NI towns revealed the majority of lenders do not adequately explain the consequences of failing to repay a loan on time.
Trading Standards found in every case the payday lender was unable to quote the Annual Percentage Rate (APR).
Consumer credit legislation requires lenders to tell borrowers the rate of interest they will be paying.
Much of the legislation governing pay lenders is designed to prevent vulnerable people or borrowers facing desperate circumstances making things worse for themselves by taking on debts they have little or no chance of paying back.
That is why the Office of Fair Trading and Trading Standards is keen to enforce the law which requires lenders to carry out adequate credit checks on people applying for loans.
In Northern Ireland, almost a third of the payday lenders visited indicated they would not carry out a credit reference check.
One payday lender agreed to provide a loan within 24 seconds.
Half of the companies surveyed said they would still be willing to lend £100 even if the borrower failed a credit check.
The survey also revealed that half of the loan companies visited would be prepared to "roll over" the loan for another month if a debtor could not repay on time.
"Many consumers typically borrow £400 and are asked to repay £500 at their next pay day," Damien Doherty of Trading Standards said.
"However, if a consumer is unable to repay the loan on time and is forced to roll over the loan into another month, incurring default charges and further interest, they can quickly get into difficulty.
"A £400 loan can very quickly require the borrower to repay £900 when further default and interest charges have been applied."
The trade association which represents the larger payday lenders, the Consumer Finance Association, has distanced its members from the practices uncovered by Trading Standards.
"The results of this survey are disappointing, to say the least. We share concerns around some of the practices adopted by some players in the market but believe that our members are both transparent and responsible," said spokesman Richard Griffiths.
Trading Standards said it would appear many lenders are giving out loans , more or less immediately, without checking adequately that the borrower can afford them.
Mr Doherty said the findings of the survey were "totally unacceptable".
"Consequently, we will consider taking enforcement action where necessary," he added.