The DUP's Nigel Dodds calls for St Patrick's Day holiday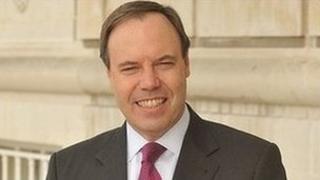 The DUP's deputy leader has called for St Patrick's Day to become a public holiday in Northern Ireland.
The Patron Saint's Day is currently a bank holiday but Nigel Dodds called for an official public holiday during business questions at Westminster on Thursday.
Mr Dodds said only some people would have a day off on Monday.
He said the designation would mean the day "could be enjoyed by everyone within the province".
"On Saturday St Patrick's Day will be marked by both the Royal Irish Regiment and the Irish Guards through parades in Northern Ireland," he said.
"On Monday whilst some people will enjoy a day off as a result of the bank holiday this is not the case for everyone, including some parents whose children's schools do celebrate it."