Finance director Gary Moore jailed for £1m fraud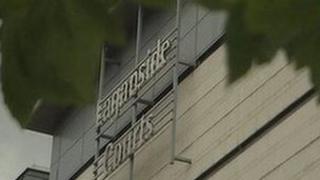 A finance director who stole more than £1m from his employers after uncovering a "weakness" in their accountancy system has been jailed for three-and-a-half years.
Gary Moore, 47, from Roddens Park in Belfast, was told by the judge that his seven-year fraud represented a "serious breach of trust".
The qualified accountant joined Howdens UK Ltd in 1987.
He stole £1,048,368.91 between May 2004 and March 2011.
Belfast Crown Court heard how Moore worked his way up through the ranks of the finance department at the large scale manufacturing firm.
He eventually became finance director in charge of three senior and nine junior staff members.
Prosecuting lawyer Ian Tannahill, told the court that essentially, Moore uncovered a weakness in the accountancy system that allowed him to write cheques, which should have been voided and sent back to the bank, to himself "for his own benefit".
The "sophisticated, well planned and executed embezzlement" was uncovered when there was a query over one such cheque and when Moore got wind of that, he sent his bosses an e-mail admitting to everything he had done and to what he had stolen.
He later pleaded guilty to the theft of the money and having blank HSBC cheques for use in a fraud.
Defence lawyer Arthur Harvey, said when the fraud was uncovered, Moore co-operated fully with the investigation, identifying the accounting weakness to the firm and helping to block that hole.
His bank accounts were also frozen and it was found that around £700,000 of the stolen monies had not been spent.
Mr Harvey said Moore, who was on a salary in the region of £70,000 per year with the possibility of bonuses to be added on, used the cash to finance expensive holidays.
He added, however, that the former director had already paid a heavy penalty as he had lost his job, his good reputation and his pension which had been built-up since he joined the firm more than 20 years ago.
Ordering that Moore spend 15 months in custody and 27 months on licence when released, Judge Patrick Lynch told him that despite his guilty plea, clear record and "genuine remorse...a prison sentence is inevitable" given the amount stolen and the breach of trust.