Agent was trusted member of Provisional IRA, Smithwick Tribunal hears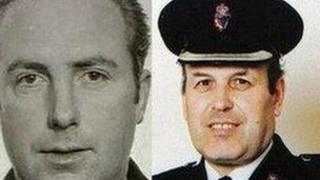 The Smithwick Tribunal has heard the former undercover agent Kevin Fulton described as a "trusted member" of the Provisional IRA.
The report from August 1988 referred to sightings of Kevin Fulton, also known as Peter Keeley, driving two senior IRA members.
It was on the day a Maze prison escapee was extradited to Northern Ireland.
"It would appear at this stage he is a trusted member of PIRA," the summary said.
The Dublin tribunal is investigating allegations of Irish police collusion in the 1989 murders of two senior RUC officers.
Ch Supt Harry Breen and Supt Bob Buchanan died in an IRA ambush in South Armagh as they returned from a meeting in Dundalk Garda station.
Mr Fulton had previously told the tribunal that former Det Sgt Owen Corrigan of Dundalk Garda station supplied information to the IRA.
Mr Corrigan has strenuously denied all allegations of collusion.
A number of Garda intelligence documents, summarised to protect the identities of sources, were read into the tribunal record on Friday.
A report, assessed as reliable, stated that Mr Corrigan was not involved in giving information to the PIRA on the movements of Ch Supt Breen and Supt Buchanan.
The details of a further 38 intelligence reports prepared in 1985 by Mr Corrigan detailing sightings of IRA and INLA members, were read into the tribunal record by Garda Supt Brian Brunton.
Supt Brunton said the reports were prepared as a "counterbalance" to reports that an RUC "SB50" intelligence report in 1985 expressed concerns about Mr Corrigan's contacts with IRA members.
PSNI barrister Mr Mark Robinson said that if Mr Corrigan was a double agent, then part of his role would be to produce intelligence to convince his superiors of his loyalty, which could render his intelligence reports a "false construct".