Empty homes targeted in new Belfast pilot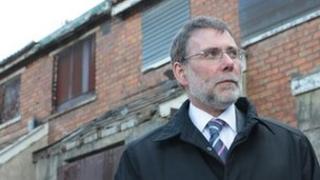 The social development minister has given the go ahead for a pilot project to target empty homes.
Nelson McCausland said the pilot exercise would aim to "examine what is available" in terms of advice and signposting to practical help.
These include grants and loans, and what enforcement powers exist.
The areas which will take part are Fortwilliam and Upper Newtownards Road in Belfast.
"I recognise the opportunity to bring these homes back to use both in terms of providing housing, enhancing neighbourhoods and removing magnets for anti-social behaviour and sources of blight," Mr McCausland said.
"This pilot exercise will help to investigate the possibilities and test the merits and effectiveness of various approaches."
He said that work would be carried out by the Housing Executive and the results would be used to inform a new empty homes action plan for Northern Ireland.