Jailed sex abuse cricket star Uday Joshi refused bail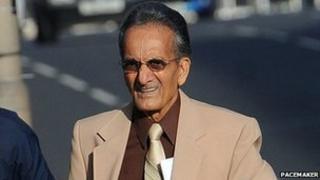 A former Indian cricket star jailed for sexually abusing a 13-year-old boy more than 30 years ago has failed in his bid to win bail pending appeal.
Uday Joshi, 68, of Cole Mill Drive, Charlotte, North Carolina, is challenging his conviction.
Last week, he was found guilty of three offences of abusing the boy in Northern Ireland in August 1979.
He was sentenced to six years in prison and ordered to sign the sex offenders' register for life.
Joshi maintains his innocence.
A senior lawyer told the Court of Appeal in Belfast on Friday that the case against Joshi was "replete with lies".
"There are features which were bizarre, potentially delusional in how the matter ended," he said.
However the prosecution argued that inconsistencies in the complainant' s account had been clearly set out to the jury and that these were common in historical sex abuse cases.
At the time of the offences, Joshi was a right-arm off-spinner for Sussex, but had come to Northern Ireland for the summer to play for a local club and to conduct training sessions with aspiring cricketers.
Lord Chief Justice Sir Declan Morgan, sitting with Lord Justices Higgins and Girvan, said further guidance may be required for dealing with such cases.
But he stressed that the test for bail was the exceptional circumstance of likely success in the appeal.
Sir Declan ruled: "We do not consider that test has been satisfied."