Irish stable lad wins £1m at Cheltenham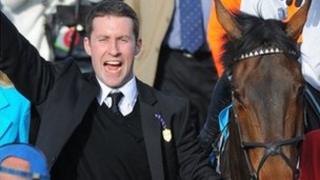 A Cork-born stable lad has won £1m on an accumulator bet based on five of the six Cheltenham winners so far this week.
Conor Murphy works for champion trainer Nicky Henderson.
He placed the £50 bet on Sprinter Sacre, Simonsig, Bobs Worth, Finian's Rainbow and Jimmy Nesbitt's Riverside Theatre in late 2011.
"I still cannot believe it, even this morning it is still sinking in. I haven't even thought about the money yet. It was just pure luck," Murphy told www.newburytoday.co.uk.
"I just picked the five best horses and hoped for a lot of luck, I didn't think much about it. I wasn't really thinking about the bet when they all started coming in; you try so hard to get even one winner here, the day just draws you in."
Henderson, who has become the most successful trainer in Cheltenham history with 45 winners, is pleased with his employee's good fortune.
"It's absolutely wonderful, he's such a lovely lad," said Henderson.
"I wish I'd known about it - I wouldn't have minded making a million quid."
He said the chance of all five horses getting to Cheltenham - and all of them running in the right races - would be "long odds".
"Particularly as with Simonsig we didn't even know what race he would be running in until the other week," he said.
"The chances of them getting there since last November must have been at least 100-1 and the chances of them all winning, that must have been a 1,000,000-1!
'Horrible day'
"He's in work this morning - he is one of the linchpins here. He's the most lovely man though, a fantastic guy and very quiet. He rides out Finian's Rainbow every day of the week and he would probably know more than anyone else in the world about that horse. Finian's is very special to him."
Actor James Nesbitt's Riverside Theatre completed Murphy's bet when it stormed to victory in the Ryanair Chase on Thursday.
"It was a horrible day for us as bookmakers, we lost on every single race," said Bet365's Pat Cooney.
BBC Sport's horse racing presenterClare Baldingtweeted: "The lad who looks after Finian's Rainbow had a 5-timer on Nicky Henderson winners & has won £1m! Says he'll still be at work tomorrow [Friday]."
Henderson, who trains at the Seven Barrows yard in Lambourn, secured four winners on Wednesday to surpass the previous record of 40 overall winners held by Fulke Walwyn.
It is not the first time someone from Henderson's yard has been in the money - a stable lass there won £1m on the National Lottery in 2001.
Kathleen Young won the cash on Christmas Eve after reading a newspaper horoscope that said "cash winnings would add luxury to her life".
Murphy's £1m jackpot is the second major gamble to have been landed at the Festival this week with Phil Williams, owner of the Donald McCain-trained Son Of Flicka, reported to have collected £900,000 when his horse won the Coral Cup on Wednesday.