More police to patrol Holyland over St Patrick's weekend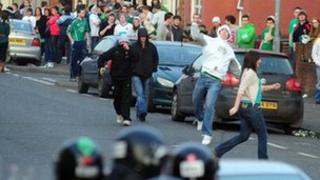 The police have said there will be an increased police presence in Belfast's Holyland area over the St Patrick's weekend.
On Friday, eight people were arrested in the area for a range of anti-social behaviour.
Three of them were students at the University of Ulster. The university has suspended them pending a disciplinary hearing in 10 days.
It is understood another was a student at Queen's University.
PSNI Ch Insp Gabriel Moran said police numbers would increase from Saturday morning.
"People will notice an increased police presence right across the Belfast area over the weekend," he said.
"We ask that people enjoy the weekend responsibly."
On Thursday night, police officers and representatives of the University of Ulster and Queen's were in the area as part of a multi-agency strategy to tackle anti-social behaviour and misuse of alcohol in public spaces.
"This operation focused on creating a safe environment for all residents in this area," said Ch Insp Moran.
In recent years, university students have held parties in their homes in the area which have spilled onto the streets angering other local residents.
The University of Ulster has warned students who get involved in trouble on St Patrick's Day they will be expelled.
Meanwhile, Queen's University is giving students a long St Patrick's weekend in the hope that some of them will go to their homes outside of Belfast.
Queen's is having a reading day on Friday 16 March and will remain closed on the following Monday.