Sammy Wilson opposed to plans to introduce pay variations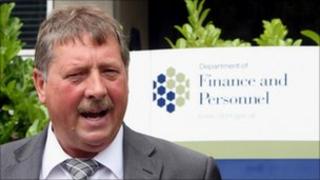 Finance Minister Sammy Wilson has said he will oppose any attempts by Westminster to set local pay variations for public sector workers.
Chancellor George Osborne is expected to announce in the Budget next week that he plans to end national pay rates for public sector workers.
It is understood that he will say workers in poorer parts of the UK should have their pay frozen, until private sector salaries catch up.
Union leaders have condemned the move.
Mr Wilson said the plans, if implemented, would have a devastating impact on thousands of people here.
"This policy is really another excuse to grab cash from devolved administrations and from poorer regions of the UK in an attempt to balance the Treasury books," he said.
"The wage freeze which many public sector workers will face could last for years.
"This is a measure with wide ramifications for individuals and for our economy as a whole and will certainly be vigorously opposed not just by ourselves but by the other two administrations as well as MPs from across the UK."
'Strategic attack'
Nipsa, Northern Ireland's largest public sector trade union, has condemned the plans.
"This is a continuation of the strategic attack by this current government on public servants and public services," said Nipsa General Secretary Brian Campfield.
"There is no economic rationale for depressing the wages of public servants in areas like Northern Ireland.
"There is plenty of research, which has demonstrated that where public sector pay is higher than the regional private sector, that this is explained primarily by the educational and skills requirements of the different sectors."
Mr Wilson said finance ministers from Scotland and Wales had already expressed their opposition in recent meetings with Treasury ministers.
He said they had been assured that the implementation of any proposal was on the "long finger" and not imminent.
"That assurance was given as little as two weeks ago," he said.
"This proposal addresses a problem that doesn't even exist. There is no evidence that national agreed public sector wages create problems for the private sector in recruiting workers.
"That is evidenced by the fact that with high levels of unemployment the private sector has been able to reduce wages not only in Northern Ireland but in other parts of the UK.
"Where there are labour shortages it is very often in an area where the private sector are not competing with the public sector."