Thousands in city for St Patrick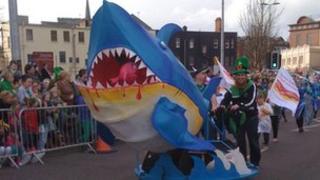 Thousands of people lined the streets of Londonderry to watch the annual St Patrick's Day parade on Saturday.
The theme of this year's carnival parade was Voyage of Discovery.
It explored the city's aviation and maritime history to jungles, oceans and even outer space.
Voluntary and community groups, as well as local schools, dressed up in colourful costumes to take part in the parade.
A spokesperson from Derry City Council described the event as a "huge success"