Police 'content' with St Patrick's in Holyland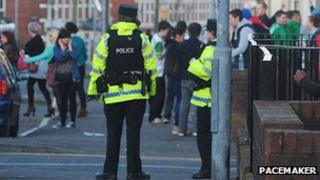 The PSNI has said they were "content" with events in south Belfast's Holyland area on St Patrick's Day.
Police officers, alongside officials from the city council, the University of Ulster and Queen's had been patrolling the area since Thursday.
Compared with previous years, levels of anti-social behaviour and general disruption were greatly reduced.
One man was arrested for possession of a Class A drug, disorderly behaviour and assaulting police.
The 19-year-old is due to appear before Belfast Magistrates' Court on Monday.
One person was given a discretionary disposal for disorderly behaviour, and two people were reported for the same offence.
University response
During Thursday night and the early hours of Friday, eight people were arrested in the area for a range of anti-social behaviour.
Three of them were students at the University of Ulster. The university has suspended them pending a disciplinary hearing in 9 days.
One other is a student at Queen's University. The university said he would be appear in front of a disciplinary panel before Easter.
Queen's University Pro-Vice-Chancellor Professor Tony Gallagher said it was the "quietest St Patrick's Day period" in the area since 2008.
"It appears that most of the Queen's contingent have taken advantage of the reading day on Friday and listened to our advice to go home for the holiday weekend," he said.
"This was reinforced by news that less than 40 Northern Ireland students had remained in Belfast at our main accommodation site, the Elms Village.
"I would also like to thank the local residents for their continued engagement with us."