Muamba's collapse triggers memories for NI families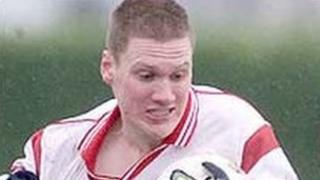 The distressing scenes at the FA cup tie at Tottenham on Saturday have had a particular resonance for two Northern Ireland families.
Bolton's Fabrice Muamba, 23, suffered a cardiac arrest on the pitch. He is stable but remains critically ill in an intensive care unit in London.
In 2004, Bridget McAnallen's son, Cormac, the star of the Tyrone GAA football team, died from a heart condition.
The 24-year-old was found dead in his bed, having contracted a rare viral infection in his heart.
Mrs McAnallen told BBC Radio Ulster's Talkback programme that tests, carried out a short time before her son's death, had shown he had a strong heart.
But she believes that an electrocardiogram (ECG) and a questionnaire would be a better way of diagnosing any problems.
"An ECG is the one test that is likely to show up most of these conditions," she said.
"It mightn't work every time, but, probably in the majority of times, it will show up if there's an abnormal rhythm. Then there are other tests after that.
"They will also go through their personal history, the history of the family... and also ask the person if they have any symptoms."
The collapse of Muamba has also been acutely felt in the family home of Christopher McNeill.
The 17-year-old was revived after a cardiac arrest during last year's Milk Cup youth football tournament in Portstewart.
His father, Denis, said the scenes at White Hart Lane were very upsetting for the family.
"What we saw was what other people saw - except it was ourselves on the pitch with Christopher.
"And Christopher found it upsetting. His older sister Emma was down for the weekend with her husband. They left the room.
"It is distressing but we are very fortunate and very lucky that the defibrillator was there. We are very appreciative that Christopher is still with us."
Mr McNeill said his son - who now has a heart monitoring device fitted under his chest - was trying to get back to normal and is completing his A-levels.
"He was advised by the medical team that he could not get involved in contact sport," he said.
"That's been very difficult for Christopher, but we believe that's because of the cost and the difficulty of putting in defibrillators.
"He's getting his own personal level of fitness back. He's trying to adjust and trying to get on with life."