Simon Tang murder in 1996 is focus of Crimewatch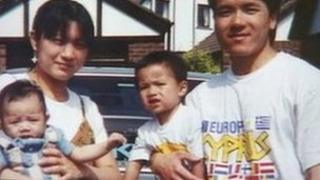 The murder of a Chinese businessman 16 years ago is to feature on the BBC'sCrimewatchprogramme later.
Simon Tang, 28, who was married with two sons, was beaten and robbed as he left his takeaway business in Carrickfergus on 24 June 1996.
It is thought that two youths attacked him and stole less than £400 and his watch.
He was taken to hospital but died from his injuries. No-one has been charged with the murder.
In January, police in Northern Ireland said they were following new lines of inquiry.
For the Crimewatch programme, Mr Tang's widow, Betty, 42, spoke publicly for the first time in nine years about her husband's murder.
She said her husband contacted her after the attack.
"Simon called me around 12.30am and told me he had been robbed. I said I would come down and see him now. When I saw him injured, I was very worried and it broke my heart."
Mrs Tang added: "He was a good father and husband. We loved each other very much and when I was with him I felt very blessed.
"Being a mother and father at the same time when raising my two sons was very hard. I felt so sorry that my two sons lost their father when they were so young."
Simon Tang's sons are now aged 19 and 16.
One of them, Kevin, told Crimewatch: "It's really hard to understand why two people would attack just for so little. Losing a dad is very, very harsh.
"I had to grow up without a dad and our mum bringing us up by herself."
Police have appealed for more help from the community.
They would like to speak to two men who were seen walking up Ellis Street towards the Good Future takeaway restaurant at about midnight on 24 June.
Police are also keen to speak to a woman who contacted the Mater hospital on the night of the murder asking about the condition of the "Chinese man" assaulted.
Mr Tang was an Oxford University graduate, but instead of pursuing a career in architecture he took over the family business.
PSNI Detective Inspector Peter Montgomery who is involved in the Crimewatch appeal said: "Crimewatch is providing us with a valuable opportunity to take this forward. We hope people watch it and pick up the phone if they can help us.
"This was a racist attack on a decent man going about his lawful business. It robbed Simon Tang of his life and it deprived his family of the love and support they deserve."
Police can be contacted via email on ReMIT@psni.pnn.police.uk.
Crimewatch is on BBC One on Tuesday at 21:00 GMT.