Here's to you Barack!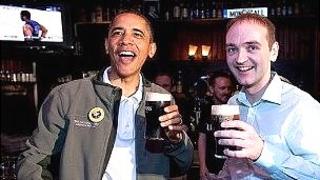 It was a long way to go for a pint - but who could refuse the most powerful man in the world?
President Barack Obama's eighth cousin Henry Healy got a top secret email that saw him flying across the world for a St Patrick's Day drink to remember.
Henry and his Uncle Ollie Hayes are relatives from the President's Irish ancestral homeland of Moneygall.
The town is believed to be the birthplace of the president's great-great-great-grandfather.
And it was in pub owner Ollie's bar that President Obama drank a pint of Guinness on his visit to Ireland.
He returned the hospitality when he took the pair for a trip around the West Wing at the White House on Saturday.
They then got into the president's car and travelled to the local Irish pub.
They were in a big motorcade, in the car with the president and the windows were inches thick, they said.
Customers and staff at the Dubliner pub in Washington got a shock too.
"They did not know he was going to arrive," said Henry.
"If you could have seen their reaction, it was phenomenal, unbelievable. If a politician walks into a pub at home, people would be saying: 'What are you doing here in my local?'
"But they were chanting 'Four more years'" he said.
Henry said his cousin Barack confided that his Presidential visit to Ireland had been one of his favourite overseas trips.
"He really has embraced his Irish roots. And he mentioned playing golf the next time he was in Ireland," he said.
Henry Healy found himself in a tricky situation earlier this month.
He had been served with a summons for jury duty at Tullamore in County Offaly at the time he was due to be with the US President.
Luckily, he was excused.