NI tourism focus as leaders meet US president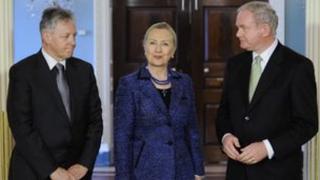 The first and deputy first ministers are due to meet US President Barack Obama in the White House later.
They will be welcomed as part of the St Patrick's Day celebrations - three days after the actual event.
Also being welcomed by the President in Washington will be Irish prime minister Enda Kenny.
The visit is one of a series of engagements undertaken by Peter Robinson and Martin McGuinness during St Patrick's week.
On Monday, they met US Secretary Hillary Clinton at the State Department.
On Tuesday, a luncheon at Capitol Hill will be attended by politicians from both NI and the Republic of Ireland.
In the evening, the US President is to host a dinner at the White House.
ABC's London correspondent Tom Rivers said the visit reflected the relationship between America and Northern Ireland.
"Think back about 20 years and the White House visit on St Patrick's Day would be very important. It would be about who was there and what was said.
"Now it is essentially boiling down to tourism and investment. This is a maturing relationship in a very positive sense."
Mr Rivers said that with a presidential election in the offing, the Irish American link clearly was important to Obama.
"More than 10% of Americans, some way, some how, say they have deep distant Irish roots," he said.
After Washington, the NI leaders will travel to Montreal, Canada, to visit a Bombardier factory and the trip will finish in Toronto.
The two Northern Ireland leaders are working to boost tourism for Northern Ireland prior to a series of events which are attracting international interest.
In America and Canada, they will publicly launch the opening of Titanic Belfast and the Irish Open golf championship in Portrush.
They will also be looking ahead to 2013, when Londonderry will be the UK City of Culture.
"Our message is one of confidence, optimism, economic regeneration and the readiness of Northern Ireland to compete internationally as a first rate location for investment and jobs," Mr Robinson said.
Mr McGuinness said tourism was "a central plank" in Northern Ireland's economic recovery.