Jim Stynes to get Australian state funeral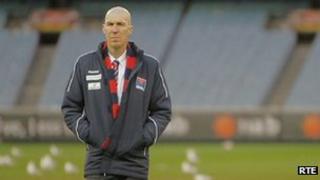 An Irish-born Australian Rules footballer is to be honoured with a state funeral in his adopted homeland.
Former Dublin minor GAA player Jim Stynes died at his home in Melbourne on Tuesday after a long battle with cancer.
The 45-year-old was the first Irishman to play Australian Rules Football.
He is also the only non-Australian to win the Brownlow Medal, given to the outstanding player in the Australian National League.
Stynes was diagnosed with a rare melanoma on his spine in 2009.
He is survived by his wife, Sam, and children, Matisse and Tiernan.
Stynes was a successful author and charity campaigner since his retirement from the game. He played 264 games for Melbourne and paved the way for countless other GAA players to cross-over and play Australian Rules Football.
Australian Prime Minister Julia Gillard paid tribute to Stynes in parliament in Canberra.
In a piece written for theHerald Sunthe prime minister called Stynes a "man who inspired fans across the nation".
Irish Justice Minister, Alan Shatter, who was a guest of the parliament as part of the St Patrick's Day celebrations, said he was deeply saddened to hear of his death.
"Through his immense sporting achievements in the AFL and as a Brownlow Medallist, and subsequently through his work with young people with his Reach organisation, Jim touched the lives of many people," said Mr Shatter.
"The decision of the Australian authorities to honour Jim with a state funeral is an indication of the high esteem in which he was rightly held and a fitting tribute to a man who devoted his life to the wellbeing of others.
"His death is a great loss which will be deeply felt by his many friends and admirers in Ireland and in Australia, but most of all by his wife and family to whom I express my deepest condolences."