NI Assembly motion calls for three IVF cycles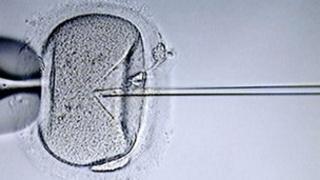 The Northern Ireland Assembly has passed a motion calling on the health minister to fund three cycles of IVF treatment for couples wanting children.
However, Edwin Poots said he would need more funding to extend the current practice of funding just one cycle.
Jim Allister, TUV, used the debate to ask if IVF was available in Northern Ireland to lesbian couples.
He was informed it has been available to all couples who meet the criteria since 2009.
Mr Allister argued that if politicians had been aware of the change at the time it had happened, there would have been opposition.
He argued that what he described as the "traditional family unit" was the best environment to raise children.