Minister puts 'considerable pressure' on health trusts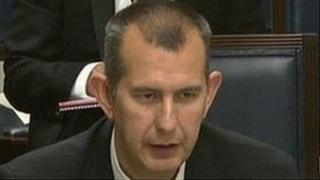 Health Minister Edwin Poots has said he has been "applying pressure" to health trusts to find a better way to combat the problems in A&E departments.
It emerged last week that a 77-year-old man died on a hospital trolley at the Royal Victoria Hospital (RVH) after waiting almost 24 hours for a bed.
The A&E department at the City Hospital in Belfast closed last year.
The health minister said that 40 new nurses had been recruited at Antrim Area Hospital.
But the hospital still has a shortage of consultants.
On Tuesday, the director of the Royal College of Nursing said the strain on casualty at the Royal Victoria Hospital (RVH) was preventing staff from delivering proper care.
Mr Poots will reveal details of how he wants to tackle the ongoing problems at the RVH and other A&E departments later on Wednesday.
But he told BBC Radio Ulster that he plans to allow senior nurses to discharge patients at weekends and on public holidays.
The minister also wants to see more patients discharged into the community "to prevent bed-blocking".
He said: "Instead of people being pushed through the system we want them to flow through the system."
Mr Poots told Good Morning Ulster that a 12-hour wait for any patient was "unacceptable" and any such case in the future would warrant a full report.
"We are making very clear that we want to see the 82% of people who are being treated within four hours and discharged or else transferred to a hospital ward moved up to 95%, said Mr Poots.
"I have been applying a considerable amount of pressure on the trusts to improve performance.
"I met with Colm Donaghy, the chief executive of the Belfast Trust, and John Compton, of the Health and Social Care Board, to express my concern at the waiting times and that something needs to be done."
The minister guaranteed that there would be no cuts to front-line services.
"At this stage I haven't seen the plans that have come from the trusts," he said.
"I have to approve those plans and I have made it absolutely clear to the trusts that I will not be allowing front-line services to be affected.
"I will not be accepting a plan that would involve a major reduction in front-line services."
Speaking about Antrim Area Hospital, the minister highlighted recent improvements.
"Things have improved dramatically at Antrim hospital and while there are still problems there isn't to the extent that we had at the Christmas period," he said.
"I believe we can make significant short term improvement in the Royal while we put longer term improvements in place."