Trouble flares after Derry City and Linfield game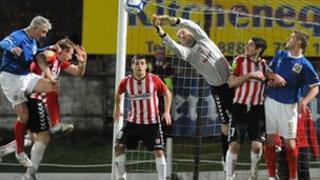 There has been trouble following the Setanta Cup football game between Derry City and Linfield.
Eyewitnesses said that a small number of Linfield fans had smashed windows at private houses near the Derry ground.
There were also reports that at least one bus carrying Linfield supporters had windows smashed by local youths.
Police said a number of missiles were thrown during the match, with one arrest made in relation to the disorder.
They also confirmed a number of homes had been attacked and that missiles were thrown at buses as they travelled along the Letterkenny Road, with damage caused to two of the buses.
Police said a segregation wall at Southend Park is believed to have been damaged, as fans left the stadium.
Derry City director Tony O'Doherty said another club director, Martin Mullan, was forced to flee after trying to intervene with rival supporters.
"You could see Martin literally had to run for his life," he said.
"It was a scandalous situation and one I never hope to see again at a football ground.
"I want to stress that was a number of Linfield fans, it was not all the Linfield fans.
"Some of the Linfield fans are going home on those buses absolutely disgusted."
Sinn Fein councillor Patricia Logue said she had visited residents following the game at the Brandywell.
She said they had endured a "sectarian rampage".
"When the Linfield supporters were being escorted out of the stadium, a large group of supporters broke away from the main crowd," she said.
"They verbally abused the residents and the community activists who were around the area at the time.
"They threw bottles, bricks and bottles filled with urine and stones over the fence at the residents."
She claimed it was an "unprovoked attack".
However, PUP leader and Linfield supporter Billy Hutchinson, said he was on a bus which had been targeted by people chanting "sectarian slogans".
"Whenever we were coming out there were a number of people behind the PSNI riot squads chanting sectarian slogans and they attacked the buses with ballbearings and bricks," he added.
"This one was hit and there was a pensioner sitting at the window who was very lucky he wasn't hit."
An elaborate security operation took place before the game with Linfield fans not allowed into the Brandywell stadium until moments before the kick-off.
A quantity of alcohol was seized by police from some buses before the game.
Derry City won the quarter-final second leg tie 3-1 to progress to the semi-finals of the competition.