Nine in court over fake goods at Clogher market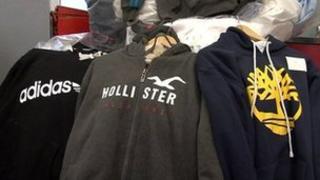 Nine people have appeared in court accused of selling thousands of pounds worth of fake goods, following a police raid on a market in Fermanagh.
They were arrested as part of a PSNI operation against the sale of fake goods at Clogher Market last November.
The nine accused are from Longford, Leitrim, Lurgan, Lisnaskea, Omagh and Newtownbutler.
They face 118 charges of trading in counterfeit products and infringing copyright.
Clothes, jewellery DVDs and CDs were seized.
The clothes bore trademarks from brands including Nike, Cantabury, and Ralf Lauren. Fake jewellery was labelled as Links of London, Thomas Sabo and Tiffany & Co.
Rupee Majeed, 39, and Tariq Majeed, 40, from Ballymahon, Longford each face 16 charges of selling fake clothes including Adidas, Paul Smith, JLS ,Nike, Paul's Boutique, Hollister, Ford and Audi.
Mohammed Ushan Iqbal, 28, and Rehan Arshad, 19, from Don Darragh, Longford face 24 and 18 charges respectively of selling fake clothes, including Cantabury, Hollister, Adidas, Ralf Lauren, Audi, Ford, Puma, Pauls Boutique, Diesel, Justin Beiber, Superdry and Timberland.
Kashif Saddique, 29, from Carrick-on-Shannon, Leitrim faces four charges of selling fake Adidas and McKenzie Clothing.
Mohammed Iqbal, 58, from Ballynamoney Heights, Lurgan is charged with 24 counts of selling fake clothes including Diesel, Nike, Audi, Superdry, Justin Bieber, Cantabury, McKenzie, Pauls Boutique, Hollister and Adidas.
Mary Duffield, 58, from Kilmacrannell, Lisnaskea and Ellen Leonard, 40, of Creevanmore Meadows, Omagh each face six charges of selling counterfeit jewellery including Links of London, Thomas Sabo and Tiffany & Co.
Sabrina Nethercott, 31, from Camphill Park, Newtownbutler, was charged with four counts of selling fake DVDs and a CD.
The case was adjourned.