Murder of Chinese man Simon Tang being treated as racist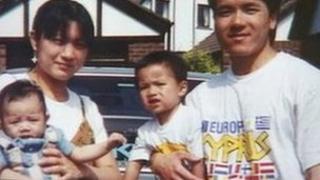 The murder of a Chinese businessman 16 years ago is now being treated as a racist attack, according to the PSNI.
Father-of-two Simon Tang, 28, was struck on the head and robbed as he left his takeaway business in Carrickfergus on 23 June 1996.
It is thought the attack involved two youths. They stole less than £400 and his watch. No-one has been charged with the murder.
The killing featured on the BBC'sCrimewatchprogramme on Tuesday night.
PSNI Detective Inspector Peter Montgomery, who led the Crimewatch appeal, said: "I am satisfied that I am dealing with a racially motivated murder."
He said new lines of inquiry had been identified.
DI Montgomery said he hoped the Crimewatch programme would "jog people's memories to come forward with new information to help me catch the racist killers of Simon Tang".
He added: "This was a brutal attack on a man going about his business, serving the local community of Carrickfergus and there's absolutely no justification for this.
"I believe there are people in Carrickfergus who have information and they should come forward and give me that information and help me catch the killers."
On the Crimewatch programme Mr Tang's widow, Betty, 42, spoke publicly for the first time in nine years about her husband's murder.
She described him as a "good father and husband".
Simon Tang's sons are now aged 19 and 16.
One of them, Kevin, told Crimewatch: "It's really hard to understand why two people would attack just for so little. Losing a dad is very, very harsh.
Police have also said they would like to speak to two men who were seen walking up Ellis Street towards the Good Future takeaway restaurant at about midnight on 23 June.
The PSNI are also keen to speak to a woman who contacted the Mater hospital on the night of the murder asking about the condition of the "Chinese man" assaulted.
Police can be contacted via email on ReMIT@psni.pnn.police.uk.