The Stone Roses lead Tennent's Vital line-up in Belfast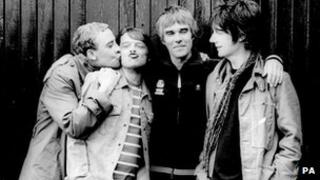 Belfast is set to rock to the sounds of The Stone Roses and Foo Fighters during theTennent's Vitalextravaganza in August.
The two-day gig at Boucher playing fields is expected to attract tens of thousands of people into the city.
Chart-topping Florence and The Machine and the American rock band, The Black Keys, will also feature during the event on August 21 and 22.
Grammy award-winning band the Foo Fighters, who were recently crowned Best Internationa
l Group, are set to headline the first night of the music festival.
The event's second night will be headlined by the legendary Manchester four-piece, The Stone Roses, featuring the original line-up of vocalist Ian Brown, guitarist John Squire, bassist Gary 'Mani' Mounfield and drummer Alan 'Reni' Wren.
Formed in 1983, they disbanded in the mid-1990s but following media speculation, it was announced last October that the band had reunited for a world tour in 2012.
English indie band Florence and the Machine last played in Northern Ireland in 2010. Their sound has been described as a combination of various genres, including rock and soul.
Tickets for Tennent's Vital go on sale at 09:00 GMT on Wednesday 28 March via Ticketmaster at a cost of £49.50 per day.