Football clubs react to violence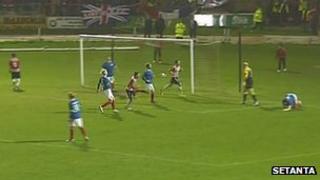 Officials from Linfield and Derry City football clubs have been giving their reaction to the trouble after a Setanta Cup game on Tuesday night.
Buses carrying Linfield supporters were attacked, as were houses close to the stadium. One man was arrested.
In a statement, Linfield said they were unhappy with the "aggressive behaviour" by Derry City stewards and some locals.
One of Derry City's directors said he feared for his life as he ran from a gang of Linfield supporters.
"I've never been as scared in my entire life," said Martin Mullan.
"I was running for my life and it's sad that were talking about this on a day when we should be celebrating the football match which was a great spectacle.
"I just feel sorry for the true Linfield supporters that came here, because this element have no part in the game."
Linfield Football Club said it condemned "without reservation the alleged stone throwing from whatever quarter that occurred before and after the Setanta Sports Cup match at the Brandywell".
A statement said: "The vast majority of Linfield supporters entered and exited the allocated seating areas in the stadium in an exemplary manner.
"It is regrettable that a small element of the Linfield support reacted to the aggressive and provocative behaviour of two Derry City stewards and a number of local residents.
"But the club is sure that the vast majority of our impeccably behaved supporters who attended the game would join us in utterly condemning those Linfield supporters who were involved in any unseemly behaviour."
Derry City won the game 3 - 1.