2012 City of Derry Jazz festival launched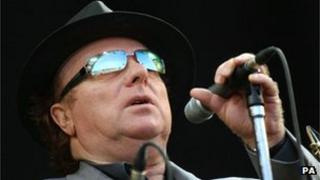 The launch of the 2012 City of Derry Jazz festival took place in the city on Wednesday.
Van Morrison and Ruby Turner are just two of the big names who have already signed up for this year's celebrations.
It is the 11th year of the annual event which will be held over the May bank holiday weekend.
It is expected to attract thousands of people into the city and will mark the start of a series of events ahead of the UK City of Culture in 2013.
The festival attracts local and international acts.
Una McGillion is from Derry City Council said the festival was growing year on year.
"We've got 70 venues on board this year with over 300 artists," she said.
"People are so excited. They look forward to it every year."
Miranda Rosenburg is a jazz musician who will be playing at the festival.
"It's one of the few jazz festivals that actually allows you to play every sort of jazz," she said.
"Neo-soul jazz, blues jazz, funk jazz - you name it and it's here. It's brilliant."
The festival runs from Wednesday 2 May until Monday 7 May.