Derry City FC chairman defends stewarding at Linfield game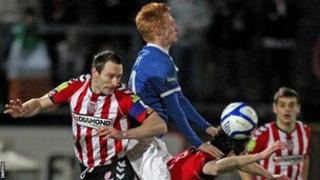 Derry City's chairman, Phil O'Doherty, has defended his club's stewarding of Tuesday night's Setanta Cup quarter-final.
Derry City's board are to meet later to discuss the trouble that followed the game.
There has been criticism from Linfield, who claimed in a statement that their fans reacted to the "aggressive and provocative behaviour of two Derry City stewards and a number of local residents".
Mr O' Doherty said if any stewards had misbehaved that would be dealt with.
Buses carrying Linfield supporters were attacked on Tuesday night and there were claims that visiting fans attacked houses close to the Brandywell stadium. One man was arrested.
One of Derry City's directors, Martin Mullan, claimed he ran from a gang of Linfield supporters and had to be rescued by Brandywell stewards.