Bangor church row over mobile phone mast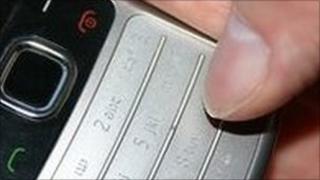 What's the link between a church spire in County Down, possible pornography and a mobile phone mast?
It appears there are fears that a phone mast on the spire of Bangor Church of Ireland could assist in the transmission of pornography.
The church's select vestry does not want the mast there, and has terminated its contract with Orange.
But it means that people in the vicinity of the church, in the town centre, are having trouble with their Orange mobile phones.
David Gilmer had been an Orange customer for 20 years.
"We have two phones in the company in constant use," he said.
"I'm self employed, so communication is absolutely essential for us. From November last year, signals became unobtainable at our office and when talking to Orange in January they told me they didn't know when it could possibly be fixed.
"Their attitude was: 'Well your contract has come to its end, if you want to go to another provider please go', which I thought was not very professional from a phone company the size of Orange.
"So I've now changed to 02 and I have 24 hour coverage with good signal strength."
The church has not explained to the BBC why it has cancelled its contract with Orange.
However, in October 2007, a parishioner and member of the Select Vestry wrote to the Church of Ireland Gazette expressing concern that allowing mobile phone masts on church spires could "facilitate the transmission of pornography in even a slight or modest way".
He said that Orange had not been able to guarantee that no "illicit material" would be facilitated by the mast and said Bangor Parish would explore all means of terminating the contract.
The BBC contacted the parishioner but he did not want to talk.
In a statement, Orange said they were aware that customers in Bangor may have experienced recent interruption in their 2G and 3G phone coverage due to a local site failure.
"Our engineers, as of yet, have been unable to access the site due to an ongoing legal dispute.
"Our priority is to resolve this issue as soon as possible and we are in contact with the church authorities to try to arrange an early meeting to bring this to a swift conclusion. We would like to apologise to customers for any inconvenience caused."
The broadcasting and telecommunications watchdog, OFCOM said it was aware of the issue and its concern was for users of Orange mobiles.