Garda killer Martin McDermott jailed after prison escape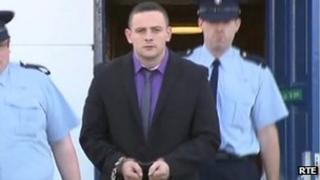 A 26-year-old man who was found guilty of the manslaughter of a policeman in County Donegal has been jailed for four months for offences following his escape from prison last week.
Martin McDermott escaped from the low-security prison in Blacklion, County Cavan on 15 March.
He was eight months into a seven-year sentence for killing a garda when he rammed his car in County Donegal.
He pleaded guilty at Londonderry Magistrates Court on Thursday.
McDermott, who is also wanted by gardai following his escape last week, admitted three charges of assaulting police officers, one charge of resisting arrest and causing criminal damage to a set of handcuffs.
The court heard that McDermott was spotted by PSNI officers on Fern Road in Derry on 16 March.
A prosecutor told District Judge Barney McElholm that McDermott was pursued and caught by the police and then became extremely violent towards the officers.
Two sets of handcuffs had to be used to restrain him. After his arrest he was taken to Strand Road police station where he admitted the offences and apologised to the police.
McDermott, who has almost 100 criminal convictions in the Republic of Ireland, including a conviction in 2009 for the manslaughter of a guard at Burt in County Donegal, had only one previous conviction in Northern Ireland, which related to his failure to surrender to bail.
The prosecutor also told District Judge Barney McElholm that a European arrest warrant has been issued by gardaí for McDermott and that warrant will be executed at a later date.