Barra McGrory briefs Stormont committee on supergrass trial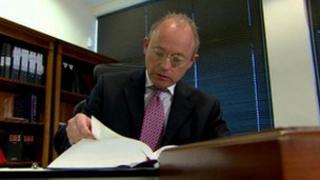 The Director of Public Prosecutions has told an assembly committee he could imagine the "howls of protest" following the outcome of the Tommy English murder case given the available evidence.
Barra McGrory was briefing the justice committee on the outcome of the trial.
Mr Justice Gillen acquitted 12 men of all charges against them.
The verdicts included nine men who were charged with the murder of leading UDA member Tommy English.
In his judgement, the judge demolished the credibility of Robert and Ian Stewart, two self-confessed UVF members who admitted their involvement in the murder and agreed to give evidence against their alleged accomplices.
Mr McGrory explained the operation of the 2005 Serious Organised Crime and Police Act, which he said was designed to bring transparency to cases based on accomplice evidence.
He spoke of the "litany of terror that was visited on the community in which the Stewarts lived".
In reply to a question from the DUP's Jim Wells, Mr McGrory acknowledged that the outcome of the trial had undermined public confidence in the prosecution system.
"Of course I do. It's one of the reasons that I'm here," he said.
Mr McGrory indicated that he had an open mind about the use of accomplice evidence in future cases.
"I wouldn't want to take any fixed or dogmatic views as to whether or not evidence of this kind would ever be used again," he commented.