Pensioners 'lose out' in budget says Coaker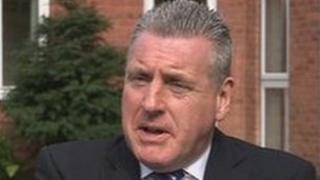 A third of a pensioners in Northern Ireland stand to lose financially following the budget, the shadow secretary of state has said.
Vernon Coaker said he had obtained figures which indicated that 90,000 over 65s would be worse off because of measures on age-related income tax.
"The Granny Tax raid on Northern Ireland will affect one in three pensioners who live there," he said.
"The freeze in personal allowance will see pensioners lose an average of £83."
George Osborne delivered the budget to the House of Commons on Wednesday.
Mr Coaker said people turning 65 in 2013 stood to lose up to £332 a year.
"At the same time, millionaires will receive an upwards of £40,000 a year more because of a cut in the top tax rate," he said.
"The secretary of state welcomed the budget and said it was good for Northern Ireland.
"It shows just how out of touch he is.
"The budget is bad news for Northern Ireland, and will take money away from older people who will lose out because of the Tory tax on pensioners."
On Wednesday, Secretary of State Owen Paterson said measures included in the budget provided "significant help" to hard working families.