Coherent energy framework needed in Northern Ireland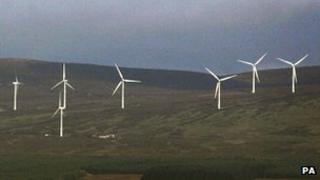 Northern Ireland needs a single department responsible for energy, a report has recommended.
It also said there should be less dependency on home heating oil and focus given to renewable electricity-based heating for the south and west where gas networks may not reach.
The report was produced by the former energy minister Lord Whitty.
He said "disparate players" in energy provision should be brought together to provide a "coherent framework".
"Although Northern Ireland's energy is affected greatly by global markets, policy in Great Britain and relations with the Republic of Ireland and the European Union, much of the energy policy levers rest with the Northern Ireland Executive and the Utility Regulator," he said.
"Specifically I have considered the issues of affordability, sustainability and security of supply, which are different but cross-related and interdependent.
"I believe that progressing these issues in a more coherent way can deliver reductions in fuel poverty, significant carbon saving, better infrastructure and more secure supply."
The report was commissioned by the Consumer Council and its chief executive said it offered "radical but practical recommendations".
"The Energising Northern Ireland report also recommends a far more substantial energy efficiency programme, that home heating oil be included in the remit of the Utility Regulator (as an interim measure to reducing NI's dependency on home heating oil)," said Antoinette McKeown.
"The Consumer Council has been concerned with the considerable and rising proportion of people's income that is swallowed up by heating and lighting their homes and made speaking out on fuel poverty our number one priority.
"We were delighted to see the inclusion of preventative measures to tackle fuel poverty incorporated into the final Programme for Government last week, and believe Lord Whitty's report can now add real value when it comes to developing an action plan for the NI executive."