What the papers say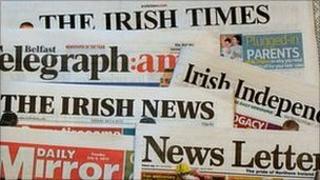 Journalist Liz Kennedy takes a look at what is making the headlines in Friday's newspapers.
It's a Titanic year for tourism - that's the marketing mantra, but the term Northern Ireland is causing confusion for visitors, they tell us.
The border "befuddles"; that is what delegates have been saying at a tourism conference in Belfast.
The "befuddled" are the north Americans and they are getting confused about the Irish border, it seems.
That is the lead in theBelfast Telegraphand "border befuddlement" is thought to be affecting tourism, because marketing Northern Ireland as a separate entity from the south is too confusing.
When the keynote speaker at the conference, Roger Brooks from Seattle, typed the name of his hotel in Belfast into an internet search engine, he was told there "is no Belfast in Ireland".
TheNews Lettercontinues the theme, but says that Tourism Minister Arlene Foster has defended "the unique identity" of Northern Ireland.
It reports that when Mr Brooks then looked for Belfast in the United Kingdom, he could not find it either, but was told there was a Belfast in Ohio.
And looking south of the Irish border, harsh words for Mr Ahern.
He has taken a severe drubbing.
And Fianna Fail met on Thursday night to begin what theIrish Newscalls "the process of expelling" Bertie Ahern from the party.
TheIrish Timeslooks very sombre this morning, with a headline "corruption and abuse of power 'endemic' in politics".
And it carries the Mahon report's recommendation that courts should be allowed to ban members of the Oireachtas - who are convicted of bribery - from holding public office and remove their pension rights.
TheIrish Independentsays that it may have taken 15 years for Mr Justice Alan Mahon and his colleagues to come to their conclusions, but that it was worth every euro and that the situation of endemic corruption was "shameful and sickening and we've had enough of it".
Dulse
Meanwhile, George Osborne's budget is still making many ripples, if not waves of opposition.
TheSunsays voters "savaged" the chancellor after his budget, but that it was "so nasty to hit pasties".
Currently all food except hot food carries VAT, but if the Treasury rubber stamps the proposal to impose VAT, that may change.
TheGuardianfocuses on what it calls the "wrath of the drinks industry" over the proposed measures by David Cameron to introduce legislation on a minimum price for alcohol.
But back to the Budget.
You cross Britain's pensioners "at your peril".
That is theDaily Mailview. It thinks the chancellor may "rue the day" he came up with what is now widely known as the "Granny tax".
But theDaily Telegraphreports the words of a Treasury minister who says the tax is "fair".
TheIndependentdubs the proposals "reasonable and just".
That's the paper with a front page picture of two hockey-stick wielding models.
The Independent is edited by David Walliams on Friday for Sport Relief - just a coincidence - that one of the girls is his wife, Lara Stone.
And finally, eating too much, why not munch on a seaweed loaf?
That's the key to a good breakfast, according to the Daily Mail.
Scientists from Sheffield's Hallam University fed healthy but overweight men scrambled eggs on seaweed bread for breakfast and they ate fewer calories all day. So good news for dulse then.