Madrid stained glass window remembers Omagh bomb victims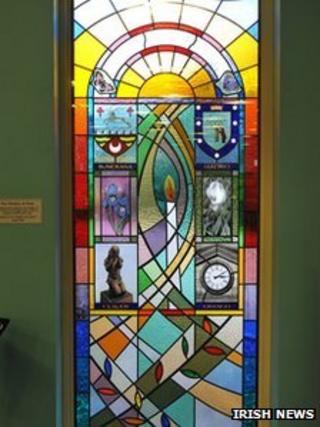 A stained glass window created in memory of two Spanish victims killed in the 1998 Omagh bomb has been unveiled in Madrid.
Thirteen-year-old Fernando Blasco Baselga and Rocio Abad Ramos, who was 23 and on an exchange trip, died in the Real IRA attack.
They were two of the 29 people, including a woman pregnant with twins, who were killed.
The stained glass windows have been designed and created by the families of victims of the Buncrana, Omagh, Claudy and Madrid bomb attacks and one has now been placed in each of the towns.
Michael Gallagher, who lost his son Aidan, joined the family Blasco Baselga family at CEU San Pablo University in Madrid on Thursday.
"It was a lovely service," he said.
"There were 200 to 300 people there. Around 7,500 students will pass the window at some stage during their week."
Fernando's father, Manuel Blasco, was hurt in a terrorist bomb attack in Madrid in 1992.
He had sent his two sons and daughter to Ireland in 1998 to improve their English.