MLAs missing almost half of committee meetings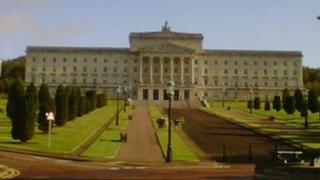 Some assembly members have missed almost half of the committee meetings on which they sit, the BBC has learned.
Sinn Fein's Pat Sheehan missed 14 of 29 meetings of the culture committee.
Ulster Unionist Michael McGimpsey, missed 12, but said a relative's ill health made it difficult for him to attend meetings in May and June 2011.
Assembly member and SDLP leader Alasdair McDonnell, who is also a MP, missed 44% of enterprise committee meetings.
Sinn Fein's Sue Ramsey, who was replaced on the same committee at the end of January, did not make 10 of the 20 whilst she was a member.
SDLP Foyle MLA Colum Eastwood, who was elected to the assembly in May, sits on both the justice and OFMDFM committees.
Mr Eastwood missed almost a third out of a combined 53 meetings.
Ross Hussey of the UUP, who also was elected in May, has missed more than 40% of finance committee meetings.
The DUP MLA George Robinson missed over 50% of OFMDFM committee meetings but that was due to ill health between June and November 2011.
The agriculture committee has so far had the best attendance, with all members present at over half of its meetings.
Each MLA is offered a place on a committee, although they are not obliged to accept this.
MLAs who are committee chairs get an extra £11,331 on top of their basic salary of £43,101, while deputy chairs get an extra £5,667.
All other members do not receive more for sitting on a committee.
The Independent Financial Review Panel published its report on MLAs' salaries and expenses on 14 March.
From 1 April 2013, and subject to salary protection for existing office holders, deputy chairs will no longer receive this additional wage.
There will be more on this story on Stormont Today at 23:20 GMT on Tuesday.