Freedom of Information requests 'should carry fee'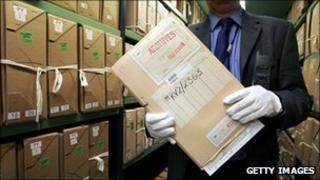 People making a Freedom of Information request to Stormont should pay a fee, the NI Civil Service has suggested.
Responding to a Westminster investigation, the local civil service complained about the number of "round robin" and "vexatious" requests.
The law is often abused by people with an "axe to grind" or journalists "fishing" for a story, it said.
TUV leader Jim Allister said he was appalled but not surprised by the NI Civil Service submission.
He claimed the Stormont Executive's proposals were designed to discourage the public from making requests for information.
Former Labour PM Tony Blair has expressed frustration at the FOI Act, writing in his memoirs that he was an "idiot" for introducing it:
"For political leaders, it's like saying to someone who is hitting you over the head with a stick, 'Hey, try this instead', and handing them a mallet," he said.