Lindsay White jailed for 2009 Marek Muszynski murder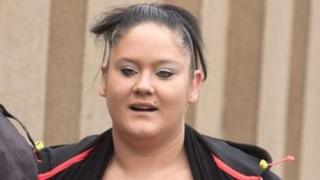 A Newry woman has been given a minimum tariff of 14 years on her life sentence for the murder of a homeless Polish man who was beaten to death in the city.
Lindsay White, 23, from Mary Street, is the second person convicted of killing 40-year-old Marek Muszynski in 2009.
Adrian Cunningham, 20, from Lisgullion Park, Newry, is already serving at least 11 years in jail after admitting the murder.
The judge said White had shown little remorse.
She had stood on the neck of the victim while he was beaten on the ground in what the judge described as an "horrific attack on a drunk and largely defenceless man".
White had claimed she was being framed by Cunningham, but the jury rejected this.
Commenting following the setting of the tariff, PSNI Detective Chief Inspector Gareth Talbot said his thoughts were with the victim's family in Poland who were unable to travel to Northern Ireland.
He said he hoped the sentencing would provide them with a "small degree of comfort after this senseless attack on their innocent loved one so many miles from home".
"Marek was a totally innocent victim," he said.
"I would like to take this opportunity to thank members of the local community whose information and co-operation enabled detectives to bring this case to a successful conclusion.
"CCTV images we have released today show White and Cunningham casually walking away from the scene minutes after the attack on their way to get a takeaway meal having taken Marek's last 70p from his pocket.
"Newry is undoubtedly a safer place today now these two killers are behind bars."