Jim McFadden killing sentence appeal rejected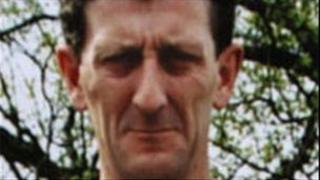 A man who kicked another wedding guest to death has failed to have his minimum 14-year jail sentence reduced.
The Court of Appeal ruled that the term imposed on James Meehan for murdering Jim McFadden in Londonderry nearly five years ago was justified.
Mr McFadden, a 42-year-old father-of-four, died of a ruptured heart after being kicked or stamped on the chest near his Shantallow home in May 2007.
Meehan was found guilty of inflicting the fatal blows.
Lord Chief Justice Sir Declan Morgan identified the need for retribution, vulnerability of the victim and multiple injuries inflicted.
He said: "The fact that this attack was carried out in the public street in front of the children of the deceased who were forced to witness their father being beaten to death is a particularly shocking aggravating factor."
Troubled
Meehan, 42, challenged the sentence imposed after his bid to overturn the conviction for the killing was dismissed.
His 43-year-old wife, Brenda Meehan, and her son Sean Devenney, 24, have both had their murder convictions reduced on appeal to manslaughter.
Mr McFadden had been returning with his family from a wedding reception in Donegal - which was also attended by the Meehans and Devenney.
The confrontation which led to Mr McFadden's death was said to have followed an earlier row over insults directed at the victim's daughter.
Counsel for Meehan appealed the sentence, claiming there was no evidence that he started the wedding dispute.
He also relied on his client's troubled upbringing, including exposure to exceptional domestic violence.
When Meehan was four years old his father killed his mother, the court heard.
But Sir Declan, sitting with Lord Justices Higgins and Coghlin, said: "The personal background of the offender is unlikely to weigh heavily against the need to impose a sentence appropriate for the needs of retribution and deterrence for violent crime of this nature.
"Although we have no reason to doubt the lasting effects of the appellant's unhappy childhood experiences, we consider that the imposition of a tariff of 14 years in this case made some material allowance for the personal circumstances of the appellant."
He added: "We do not consider that this sentence was in any way inappropriate. Accordingly this appeal is dismissed."