Belfast bus tour attacker gets eight months jail sentence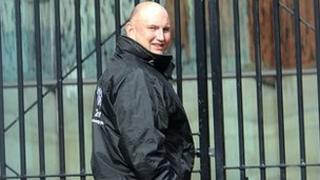 A former bus tour worker turned church pastor has been jailed for eight months for beating up a rival operator in Belfast city centre.
District Judge Ken Nixon said the seriousness of the attack carried out by David Cromie merited imprisonment.
The 36-year-old, formerly of Seabourne Parade, Belfast but now living in England, is to challenge both his conviction and sentence.
He was released on bail pending the hearing of his appeal.
Cromie was found guilty last month of assault occasioning actual bodily harm and attempted grievous bodily harm.
He was said to have been working for Allens Tours when he punched Michael Johnston up to 10 times in a row over parking in September 2009.
Mr Johnston, 38, operations manager for City Sightseeing, Belfast, said he was threatened and then beaten and kicked on the ground until he drifted in and out of consciousness.
A bus driver witness also gave evidence that Cromie lifted the victim's head and banged it off a phone box at Castle Place in front of afternoon shoppers.
At a previous hearing it was disclosed that the defendant is now a pastor in England, where he has established his own congregation.
Disgusted
Defence barrister Richard McConkey told Belfast Magistrates' Court on Friday that Cromie has now completed his vocational training.
He urged the judge to impose either a community service order or suspend any prison sentence.
Mr McConkey said his client has been assessed as posing a low risk of re-offending, and has no history of violence.
But Judge Nixon decided his only option was to hand down a jail term of eight months in total.
Outside the court Mr Johnston hit out at the punishment imposed.
"I'm absolutely disgusted with the sentence," he said.
"It's definitely not enough for what he put me through."
Mr Johnston added: "I had to have an MRI scan on my head and brain because of the beating he gave me.
"I feel so sad and let down by all of this."