Belfast company keeping track of loved ones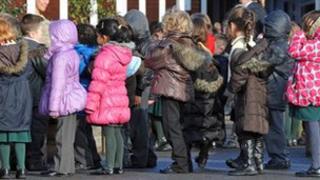 Have you ever taken a young child to the shops or the park and, after a moment of distraction, you turn around and they are gone?
It is a tale that has been told many times, mostly with a positive outcome, but not always.
It was after a similar experience that Don Murray came up with the idea to develop the portable tracking device Angel Eyes.
Using GPS tracking, it allows the user to view the location of their children, almost in real time, on their phone or the internet.
"I had my two-year-old grandchild at the park and I discovered how quickly a two-year-old can disappear," he said.
"I began to think that it would be great if we had products that could help."
Don had lots of experience in software development, having established a successful software compliance company, Worksmart, in England in the 90s.
After selling the company in 2009 he returned to Northern Ireland. That is when he came up with the idea for the tracking system.
"We're so focused on trying to ensure our children are protected from the internet and don't see inappropriate things, but they head off in the car and we don't know where they are and what they're doing," he said.
"I have nine grandchildren aged from 18 down to two, and it's natural that we worry about young people."
Contact
But is this sort of tracking a form of spying? Don says no.
"If your young teenager has not returned home and you're worried, you can easily find out where they are.
"It's using modern technology in a different way to keep in contact with our children."
The company currently has four members of staff, including two software writers, based at Cromac Square in Belfast.
It has also recently developed a smart phone app with the traveller in mind.
Travel Angel allows family and friends to communicate with their loved ones wherever they are in the world.
It has what the company is calling an "SoS function", which enables the user to make immediate contact with their insurance provider, should they get into any difficulties while abroad.
Don said it was still early days for the company, but he hopes to build on the current number of employees.
"It is an area which will become much more prominent in the years ahead."