Glass victim Aine King says doctor has advised counselling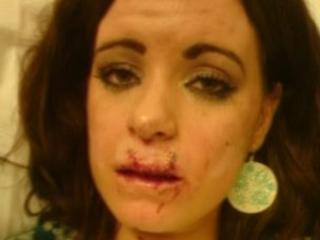 A 22-year-old woman who received permanent facial scars after a pint glass was smashed into her face said her doctor has advised she attend counselling.
Aine King was celebrating her birthday in a local night-club when the incident happened.
On Friday, Gemma Doyle, 22, from Malin Gardens, Londonderry, was jailed for two and a half years.
She had previously admitted smashing the glass into Ms King's face.
Judge Piers Grant told Doyle that she would serve 15 months in custody and 15 months on licence for the assault.
He further recommended that she should attend a programme to deal with her alcohol abuse and a separate programme to deal with her compulsive recklessness and behaviour.
As a result of the injuries sustained, on 19 June 2011, Ms King had to receive 10 external sutures and 16-20 internal sutures to her upper lip.
Londonderry Crown Court was told that Ms King was acting as peace-maker in a row between Doyle and another woman when the unprovoked act took place in the night club toilets.
Doyle then left the scene but later phoned Ms King's friend and told her "it was meant for you, she should not have got in the way".
Prescribed medication
Speaking outside the court, Ms King said it had been a "terrible experience".
"Not only have I permanent scars and I went through pain, but I feel that mentally it has affected me so much," she said.
"My confidence has went from high to very low. I just want to focus on getting myself back to before all this happened.
"Now I feel I would need a close person out with me at all times."
Ms King said her physical scars and restricted movement in her upper lip were going to be permanent and she had been prescribed medication to help her sleep.
Her father Tom said Friday's ruling gave some closure.
"No-one wants to see anybody go to jail, but this was a very serious and savage act - these things shouldn't happen," he said.
"I hope Aine can move on."
Ms King said she was now hoping to get a full-time job related to her degree and have "the courage to go on nights out and not have somebody beside me at all times".