PSNI receive freedom of borough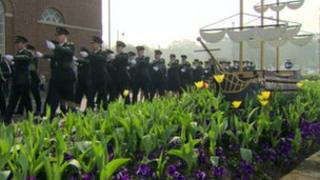 The Police Service of Northern Ireland was awarded the Freedom of North Down in a ceremony in Bangor on Saturday.
It is the highest accolade the council can give and marks the 10th anniversary of the formation of the PSNI.
It is the first time any council has given the honour to the PSNI. North Down mayor James McKerrow said it was the "right time" to bestow it.
"It means a lot to us and I believe it means a lot to the recipients," he said.
"It's the highest honour the borough can grant to a person or an organisation. We don't do it too often.
"The RUC were granted the freedom of the borough nearly 30 years ago, the Royal Irish Regiment have the freedom of the borough.
"I think it will mean a lot to the men and women of the PSNI."
Sixty PSNI officers paraded through the town and attended the awarding of the freedom.
District commander Ch Supt Nigel Grimshaw said the honour was evidence of "growing confidence" in the PSNI.
"I'm very proud of the service we provide as the PSNI to all the communities of Northern Ireland, through all the challenges we face," he said.
"It's an absolute delight to walk through Bangor on such a beautiful day. I think we'll walk very tall.
"But we're here to provide a service, that's what we do every day. All of these officers will be out and about tomorrow, or even later tonight providing that service."