Newspaper review: NI and Republic of Ireland stories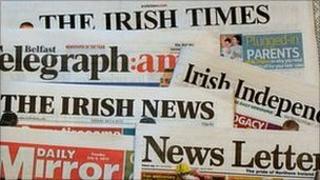 Journalist Keith Baker takes a look at the morning papers.
TheIrish Newsleads with the story about a 73-year-old man who fought off three masked burglars.
The paper says this is the latest in a series of violent burglaries targeting vulnerable pensioners in recent weeks.
TheNews Letterhas another story. The headline - "You're fit for work, thousands are told".
TheBelfast Telegraphreports on the excitement about the opening of the new Titanic building.
That will be on Saturday and the paper says there will be a last-minute rush for tickets. It says more than 90,000 have already been sold to people in 20 different countries.
Meanwhile, the Telegraph also reports that more than £500m has been paid in overtime to staff at two of Belfast City Council's premier entertainment venues for working un-social hours - or "anti-social", as the paper says.
It says front line employees at the Ulster Hall and the Waterfront Hall have been able to top up their salaries with extra payments for working evenings and weekends, when both venues are at their busiest.
Resignations
The fall-out from the Mahon Tribunal is still a big story in the Dublin papers.
More resignations from Fianna Fail are on the way, according to theIrish Times. It refers this morning to former European Commissioner Padraig Flynn who was found to have behaved corruptly.
His intentions are so far unclear, it says.
As for Bertie Ahern's departure, theIrish Independentsays by normal standards, his resignation was the right decision.
But he still insists there has been a grave injustice and incredible as it may seem, the paper says, that view is shared by some prominent party members.
TheIrish Timesgives Mr Ahern the opportunity to say his piece.
"To my dying day," he writes, "I will not accept the findings of the Mahon tribunal report."
"My finances were chaotic," he says, "but they are most certainly not corrupt."
He says he is in contact with his legal team. He says: "I'm looking at all options as to how I can and will vindicate my good name."
PM pressure
There are two stories grabbing the attention in the London papers this morning.
There has been a break-in at Simon Cowell's house - TheSun's headline is "Cowell finds crazed fan in his loo".
And competing with that there is the cash-for-access row. The word "crisis" being used in at least one headline. That is theTimes.
Other headlines - "Donors' secret No 10 dinners" is theDaily Mail's.
"Cam Dine With Me" is in theMirror, "Pressure grows on PM" can be seen in theGuardianand "Demand for inquiry" says theDaily Telegraph.
TheSunsays that in the eyes of the public, Westminster is awash with charlatans and shysters.
It is a "sleaze storm", according to theDaily Mail. British politics is still rotten to the core, it reckons, and it wonders why David Cameron's such a terrible judge of character.
Plenty of pictures of Mr Cameron doing the Sport Relief mile on Sunday. TheMirrorsays he can run but he can not hide from the stench.
And there is a cartoon in TheTimes. It shows two men having a meeting.
One says: "If you're on a tight budget we can arrange access to Nick Clegg."
Finally plenty of tributes to the darts champion Jocky Wilson who has died.
One of the great characters of the sport, says theMirror.
TheIndependentsays no one could have looked or acted less like a sporting figure.
TheDaily Telegraphsays he always drank buckets of lager, chased by vodka and coke.
It rarely affected his game although on one occasion when a victorious opponent turned to shake his hand he was nowhere to be seen because he had fallen off the stage.