Court told accused is 'high-risk'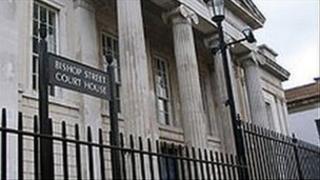 A police officer has described a 29-year-old man as a "high-risk" offender with an "unrelenting" history of offending.
The officer told Londonderry Magistrates' Court that John Patrick McGilloway, from Bloomfield Park in Derry, was arrested on Sunday.
The police received a report the Amber Bar at Strand Road had been burgled.
Mr McGilloway denies entering the Amber Bar as a tresspasser and stealing £75 from the till.
He also denies having items for use in a burglary.
The court was told that Mr McGilloway has 238 previous convictions, 70 of them for burglary.
Mr McGilloway was arrested at Rock Road when he was seen by police discarding items of clothing.
He was stopped by the police who recovered items which included, gloves containing wooden splinters, a balaclava and an iron bar.
District Judge Barney McElholm refused bail saying his primary duty was to protect the public from harm and he remanded the defendant in custody until 12 April.