Lisburn company Kelvatek to create 60 new jobs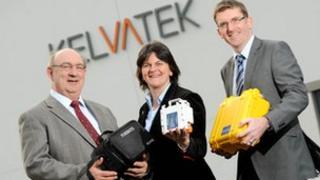 A Lisburn company is to create 60 new jobs over the next three years as the result of a £3.5m investment.
Kelvatek designs, manufactures and supplies a range of products to the power and rail industries.
The company has been given £300,000 towards its expansion by Invest NI.
The Enterprise Minister Arlene Foster welcomed the investment, with which the firm also aims to quadruple turnover and expand the range of products it manufactures.
The new jobs represent a tripling of Kelvatek's workforce.
The minister said that the plans were a welcome boost in the current economic climate.
""The company's ambitious expansion plan is based on a dual innovation and export focus. It plans to develop new products that will use new intelligent automation technology and to expand into new markets," she said.
"This approach exemplifies a forward-thinking company that has identified the need to develop solutions for a changing industry."