Australian mother gets child custody in Northern Ireland legal battle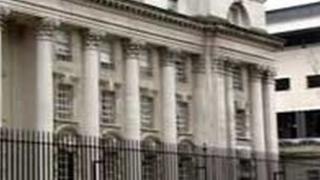 A five-year-old girl at the centre of a parental tug-of-war can leave Northern Ireland to live with her scientist mother in Australia, a High Court judge has ruled.
Mr Justice Weir ruled in favour of the woman taking her daughter, identified only as K, with her in a relocation based on her struggle to find work in Northern Ireland.
He also criticised the girl's father for the "mean" act of giving his ex-partner a dozen eggs a week and some firewood in response to her financial predicament.
The judge said: "I have no confidence that they would mend their ways in this or any other respect if K continued to live in Northern Ireland with her mother."
The child's Australian mother holds a doctorate in a specialist scientific area.
She came to Northern Ireland to take up a university post, later beginning a relationship with the girl's father.
After the child was born they lived together on a farm close to the man's parents, the court heard.
But the woman then lost her job and has since been unable to obtain any further full-time employment in Northern Ireland.
Eventually she moved out of the home and began to explore the option of returning to Australia with her daughter.
With her ex-partner opposed to the child being taken, a series of court battles ensued.
In her evidence, the woman told the court she had relied on income support, child benefit and some making of children's clothes and handbags from which she earned around £2,000 a year.
Conflicting messages
The eggs and firewood from the farm are the only form of material help she receives from the father or his parents, she said.
In November 2011 she had received a job offer with an Australian company with a starting date of last month.
She was prepared to ensure her daughter maintained contact with her father, according to her evidence.
The girl's father acknowledged the advantage of his ex-partner going to work in Australia but claimed it would not benefit his daughter.
He accepted that the mother had facilitated contact for him and his family and did not dispute that her track record backed the view that she would maintain contact.
If the applications to relocate were accepted he said he would have to use the online Skype service to communicate with his daughter.
In a judgment delivered last month but only now published, Mr Justice Weir said he could see no prospect of improved relations between the two sides if the child remains in Northern Ireland.
"I have no doubt that the mother's desire to relocate to Australia is motivated by two principal factors, namely a desire to obtain employment at the level for which she is eminently qualified and to put an end to the depressing series of court cases that have rained incessantly about her head and that of K," he said.
"The sad reality of all relocation cases is that there will always be a parent who regards him or herself as having 'lost' since the child cannot live in two countries at once so that that outcome is inevitable.
"However, if the child were to relocate I am satisfied that both by way of visits by the mother with K to Northern Ireland and by the father to Australia and regular intervening Skype contact the effect of the separation would be mitigated though not of course avoided."
The judge stressed that the child deserved a happy, carefree life without conflicting messages and on-going family battles.
"Of that I consider there is no prospect if she continues to live in Northern Ireland," he said.
"On the other hand, in Australia she would have the benefit of a materially comfortable existence with a mother who feels fulfilled in her work and enlivened by the lack of on-going disputes and would have the compensatory benefit of contact with her maternal grandmother and wider family."