Audit report says 'steady progress' at Invest NI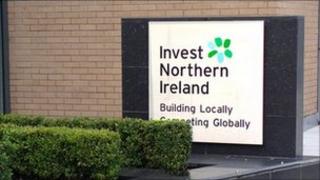 About three quarters of the jobs promoted by Invest NI translate into actual jobs on the ground, according to Invest NI.
Over the past nine years, the published report said Invest NI had shown steady progress measured against its targets.
Since its formation in 2002, Invest NI spent almost £1.5bn of public money supporting local industry and creating jobs.
Between 2008 and 2011, it exceeded its own targets.
The report said performance in Invest NI's most recent corporate plan period 2008-11 was the strongest to date.
"It achieved all its major targets in job promotion, investment, exports in targeting social need, including promoting over 7,500 new foreign direct investment jobs (FDI jobs)."
According to the audit office, in the first two corporate plan periods 2002 to 2008, Invest NI's performance was mixed.
The report stated that similar to many agencies in Northern Ireland, the quality and reliability of Invest NI's performance data had not been subject to external validation.
Since it was established, the economic development agency measures some of its performance in terms of jobs promoted - the number of new jobs forecast at the start of a project.
It also attempted to measure the proportion of jobs actually created.
The report said the most reliable estimate suggested a conversion rate of around 75% - with three quarter of the jobs promoted translating into actual jobs created.
While Invest NI has scored some important successes, the report said there remained areas where success has yet to be achieved.
Invest NI has welcomed the publication of the Northern Ireland Audit Office Report.
Quality
Invest NI Chief Executive, Alastair Hamilton, said: "In particular, it recognises that over the period of our last corporate plan, Invest NI exceeded all of its targets, many by a considerable margin, in a period when targets were more challenging and economic conditions much less favourable.
"This report is a valuable addition to taking forward the debate on how we, as a small sub-regional economy, can best deliver the support which enables our private sector to grow. "
As well as numbers of jobs, the report also looked at their quality.
More than 9,000 new jobs created before 2008 were in "contact centres", and only a third of these had salaries above the private sector average.
The report said: "In 2008, Invest NI introduced formal job quality targets, and recent performance has improved markedly - 75% of new foreign direct investment jobs promoted between 2008 and 2011 had salaries above the private sector average."
According to the report, net job creation within Invest NI's client companies was low until 2007.
The jobs' body analysed numbers in client companies between April 2002 and March 2007 and reported 28,873 job gains and 28,545 job losses - an increase of 328 jobs.
"On the basis of this analysis , Invest NI ... acknowledged that net job movement of 328 (0.4%) was "only a marginal change in employment", the report said.
You can hear the full interview with Invest NI Chief Executive Alistair Hamilton on theNI Business News Podcast
With something like; "