MPs want action on NI fuel fraud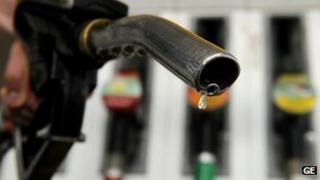 A committee of MPs has said it is disappointed at the lack of progress on new measures to tackle fuel fraud in Northern Ireland.
The Northern Ireland Affairs Committee said customs officials should work harder to acquire new technology.
This is to prevent red diesel from being sold illegally by paramilitaries and criminal gangs.
The report comes after the committee heard evidence from a series of witnesses at Westminster.
Laurence Robertson, chairman of the committee, said it was "bitterly disappointed at the seemingly slow pace of progress on acquiring effective technologies to tackle fuel crime".
He wants Revenue and Customs officials to acquire the latest "rebated fuel marker technology" as soon as possible, begin a pilot scheme and report back to the committee before the summer.
In the latest report, the committee said it recognised the commitment and effort of individual HMRC officers in the fight against fuel crime in Northern Ireland.
However, Mr Robertson said: "It should make a more concerted effort to eradicate the problem in Northern Ireland, where it is most prevalent".
Northern Ireland is estimated to have lost £70m in tax revenue due to fuel fraud in 2009/10, down from £250m five years ago.
Mr Robertson said only four people had received a custodial sentence in Northern Ireland when convicted in connection with fuel laundering.
"It is a serious crime. It affects the environment, it affects health and there is the tax evasion element as well," he said.
"We want to see sentencing guidelines, robust guidelines.
"There is a tendency to think it is only the tax man who loses out. It isn't, it's schools and hospitals. It isn't a victimless crime."
Sinn Fein councillor for Newry and Mourne Terry Hearty agreed.
"This has a serious cost on local councils and local councils pick up the tab for it," he said.
"In the last year we have paid out between £80,000 and £100,000 to lift some of the residue.
"There's a site at Cullaville that hasn't been touched yet, but it's going to cost in the region of £40,000 to clear away.
"So the rate payers of Newry and Mourne would definitely see it as a serious crime."
In response, HMRC issued a statement in which they said that the government is studying the report and takes the issue of fuel fraud very seriously.
"HMRC has an effective strategy in place to tackle fuel fraud as shown by the fall in the estimated market share in Northern Ireland for diesel on which UK duty has not been paid from 52% in 2002/03 to 12% in 2009/10," the statement read.